Frequently Asked Questions
Frequently Asked Questions (FAQ)
Detailed FAQ About the Conference Platform (Midspace)
Need help quickly? For more immediate help, chat with CLIR staff by clicking Socialise on the left sidebar and select Help Desk from the Rooms tab. Alternatively, the Help Desk is auto-pinned to the right sidebar.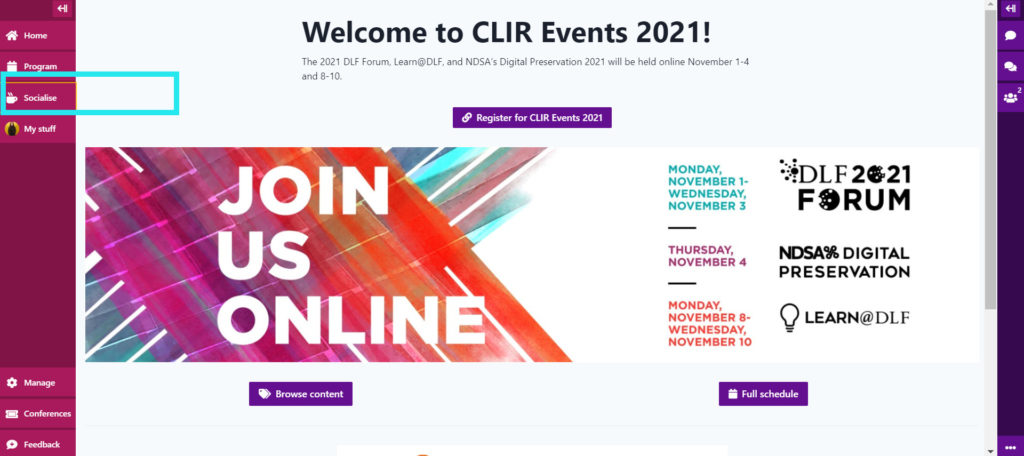 You can always email conference organizers at forum@diglib.org with any questions, but staff may take longer to respond over email. 
Create a Social Room
Need some time during the events to convene with other attendees? Want to host your own meetup on the conference platform? You can create your own social room by clicking on Socialise. On the Rooms tab there is a Create New Room button. Name your room and share the room by copying and pasting the URL.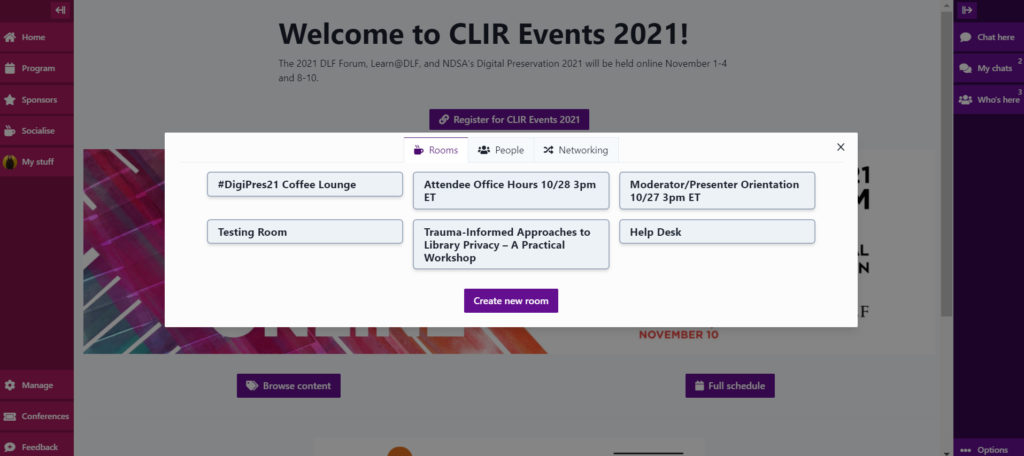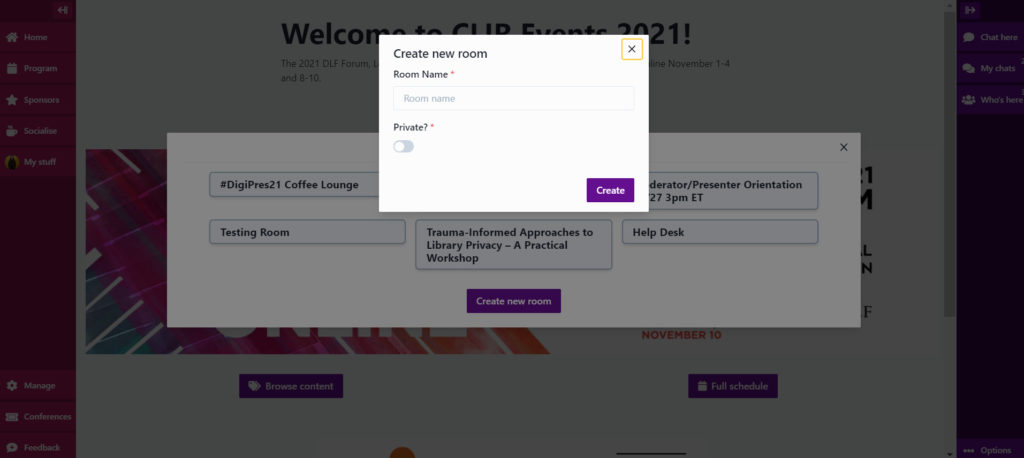 Direct Message Someone
You can direct message another conference attendee by going to My Chats on the right sidebar, or by clicking their profile and then the "Chat" button.
All rooms (program session rooms, social rooms, etc.) offer a chat feature, which allows you to communicate with other attendees in a text-based way. 
Each chat will feature emojis (clapping hands, waving hand, thumbs up, etc.), which will be animated in the main area of your screen (in a flying motion). Each chat will also feature the option to send a Message (which will appear to everyone in the room at the time it was sent as well as to anyone who enters later), ask a Question, and compose a Poll. 
Message should be used when you have something general to say; Question should be used if you have a question (keeping in mind questions are not threaded for now, so responses will likely be out of order); and Poll can be used if you'd like to gauge audience response to a question.
We are not recording any live DLF Forum or Digital Preservation sessions, or any Q&A sessions. We will be recording the Learn@DLF Workshops and sharing the recordings only with the registrants for those workshops, for a limited time after the event.
As is the case every year, to help keep this wonderful community safe, all of our events this week are guided by DLF's Code of Conduct. Last year, our amazing Committee for Equity and Inclusion helped us revise this Code of Conduct to be more explicit about expectations and reporting procedures for online events. We ask all attendees to review the Code of Conduct at diglib.org/code.