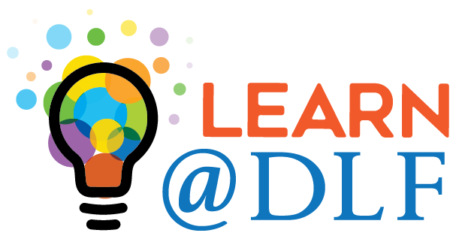 To cultivate creative training and professional development opportunities stemming from our past three successful DLF Forum Pre-Conferences as well as our series of video tutorials from last year's first-ever virtual DLF Forum, we are excited to host Learn@DLF the week immediately following the DLF Forum and NDSA's Digital Preservation 2021 on Monday-Wednesday, November 8-10, 2021.
Frequently Asked Questions
What workshops are being offered?
You can check out the workshops here and register for them here!
What will it cost?
Registration will be set at $35 per workshop.
What about the video tutorials?
We'll release pre-recorded training sessions or demonstrations between 10 to 15 minutes in length about specific tools, techniques, workflows, or concepts every day of Learn@DLF. Access to these tutorials is included in registration for any Learn@DLF workshop at no additional cost! If you're not registering for a workshop but would like access to the tutorials, keep your eyes peeled: we'll release the tutorial recordings with the Forum and DigiPres recordings in late 2021/early 2022.
I'm interested! How do I register?
Add the Learn@DLF workshops you're interested in to your ticket when you register for the Forum and/or Digital Preservation 2021. Attendance at Learn@DLF is welcome regardless of attendance at the DLF Forum.