Information for Attendees
We're so glad you're here.
This page is meant to help orient you to some of the most important aspects of our 2021 online events. Need information you aren't seeing here? Write to us at forum@diglib.org and we'll be happy to help you.
First time at the DLF Forum?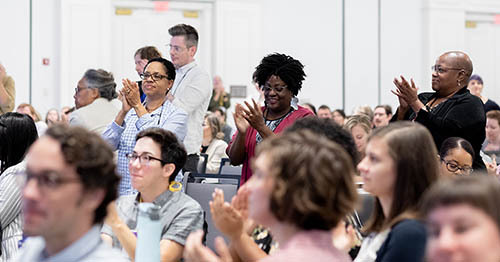 As we get closer to this year's virtual events, we will update this page with information about how to watch and participate in conference sessions as well as this year's social and wellness activities.
The Digital Library Federation (DLF) is committed to creating and supporting inclusive, diverse, and equitable communities of practice. We strive to be a welcoming organization and the focal point for a digital library culture that is anti-oppression, recognizes intersectionalities, and works compassionately across difference. We know that the best problem-solving and critical thinking happens when people with a wide array of experiences and perspectives come together to work in comfort and safety as peers.
At the DLF Forum, November 1-3:
45-minute Panels: A panel discussion of three to four speakers on a unified topic, with an emphasis on the discussion.
Combo Panels: Three 15-minute presentations grouped by the program committee based on overarching themes or ideas for a total session time of 45 minutes. Each presentation is by one to two speakers on a single topic or project.
Lightning Talks: High-profile, high-energy lightning talks held in plenary during a Monday evening session, with the opportunity to point attendees to contact information and additional materials online.
25-minute Birds of a Feather (BOAF) Sessions: New this year, 25-minute BOAF sessions are live video discussion sections where folks discuss a topic of the proposer's choice. These are roundtables where ideas can be shared and questions can be asked in the spirit of shared knowledge.
HBCU Library Alliance Partner Sessions: These panel discussions, collaboratively organized with the HBCU Library Alliance, a CLIR institutional partner, bring focus to experiences and approaches of digital GLAM and cultural heritage practitioners at HBCUs.
DLF Working Group Open Meetings: Find out what happens at DLF when we're not at the Forum by getting to know our working groups. These sessions, just like participation in our working groups, are open to all. Affiliation with a DLF member institution not required!

At Learn@DLF, November 8-10:
90-minute Workshops: Live, in-depth, hands-on training sessions on specific tools, techniques, workflows, or concepts. All workshop organizers are asked to provide details on technology needed, participant proficiency level, and learning outcomes for participants. Workshops require separate, advance registration.
10-15-minute Tutorials: Pre-recorded training sessions or demonstrations between 10 to 15 minutes in length about specific tools, techniques, workflows, or concepts.
With Thanks & Acknowledgement
In our efforts to make the 2021 DLF Forum welcoming and accessible, we're inspired by our community and the initiatives of other conference communities. 
We thank the members of our planning committee for their invaluable input on this FAQ page as well as the many conference organizers who have shared their practices online and served as models for us.
Frequently Asked Questions (FAQ)
If you only reserved a ticket for DLF Forum, that ticket is only for that event. If you'd like to attend NDSA's Digital Preservation or any of the Learn@DLF workshops (priced at $35 each), please reserve tickets for those events. 
All events are virtual and will utilize the conference platform Midspace (formerly Clowdr). After registration, you will receive instructions for signing up for Midspace. 
Any donations collected will go toward offsetting costs of the conference platform and supporting conference programs such as the Community Journalist fellowship.